If you have any questions, please email summerprograms@hopeccs.org
STARTALK Summer Program 2017
HCCS is pleased to announce that we are hosting the 2nd HCCS STARTALK STEM-Integrated Chinese Summer Program in 2017.  We are thrilled to once-again offer a tuition-free summer Chinese program from July 5th, 2017 – July 28th, 2017 (9:30a.m. – 2:30p.m.).  This year, based on the received positive feedback, the program is improved to incorporate more learner-centered cultural and language enrichment activities, as well as advanced language learning with science and engineering practice and technology use.  In addition to meaningful language learning for real-life skills, there are 5 different enrichment programs being run on different days repeatedly over four weeks.  The enrichment programs are: LEGO Robotics Engineering in Chinese, Chinese Calligraphy Arts and Architecture Crafts, Chinese Folk Music and Dance Performance, Traditional Chinese Cooking, and Chinese Martial Arts Practice.  Each of the language enrichment classes will embed multiple language tasks to accomplish throughout the hands-on activities.  The program will also feature a  field trip to the Lan Su Chinese Garden for a Mandarin garden tour, Chinese tea ceremony, Kung Fu practice, boathouse story time, Chinese traditional music orchestra, and an in-garden scavenger hunt for Chinese traditional articles.  The program will conclude with an in-class academic presentation and cultural performance for the parents and invited guests during the last week.
This STARTALK program is open to any incoming kindergarten to 8th grader students.  Participants will be grouped by language proficiency, as well as age, to ensure that every child gets the most out of his or her experience.
Theme: Welcome to Panda Pan Pan's Bamboo Garden!

Unit Topics:
Week 1 (July 5 – July 7):  All about Panpan
Week 2 (July 10 – July 14):  Pan Pan's Bamboo Garden
Week 3 (July 17 – July 21):  Pan Pan's Global Friends
Week 4 (July 24 – July 28):  Help Pan Pan Protect Her Home
Daily Learning Blocks: 9:30a.m. – 2:30p.m.
Daily Learning Goal-setting/reflection meeting
Function-based Chinese language learning
Computer-based instruction
Science research/gardening
Chinese Language enrichment (LEGO Robotics, Chinese arts, Chinese cooking, Chinese music & dance, Chinese martial arts )
Interactive reading time
 **Fee-based Before care (7:30a.m. – 9:15a.m.) and after care (2:45p.m. – 5:30p.m.) programs are available to participants**
Application and Registration Process
Step 1: Application Process
To apply for the STARTALK program, please submit $25 non-refundable program application fee to HCCS and the required documents listed below via email to summergrograms@hopeccs.org or mail them to Hope Chinese Charter School STARTALK, 3500 SW 104th Ave, Beaverton, Oregon 97005. While the program is tuition-free, there may be minimal costs incurred for materials/supplies if your child is accepted. Applications will be reviewed once the application package is complete and the fee is paid.  Applications will be closed on March 31, 2017.  All of the qualified applicants will participate in a lottery to be decided for the further enrollment.
Required documents for application:
This program has limited entry and applicants will be screened by a small panel using the following criteria:
* Free or Reduced Lunch participants
* Commitment to 4-week attendance
* Student academic/behavior evaluation
Step 2: Program Registration  
Lottery results will be sent out on April 17, 2017. Once the child is accepted, program registration will open and all required documents will be emailed to parents after April 17, 2017.  Non-admitted applicants will be placed on a waitlist for registration.  To complete the registration, please submit $75 registration fee and the forms listed below by April 21, 2017.
Required documents for registration:
HCCS-STARTALK Program Registration form
STARTALK Program Consent (see instructions for how to fill out the form)
Before & After Care Registration (if needed)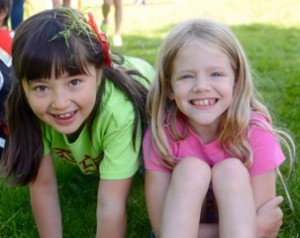 Hope Chinese Charter School's  2016 Startalk summer program: "Let's explore the botanical world with Pan Pan" from June 27 to August 19, 2016. ***There is no tuition required for this program*** Applications were accepted through 4/28/16 and are no longer being accepted.
This Nationally funded Startalk Stem-integrated summer Chinese language and culture program is an eight week (M-F) full day program for both entry level and intermediate Chinese language learners with three classes based on experience and grade level (grades K-5). ***There is no tuition required for this program***
* Curriculum aligned with National Standards for Foreign Language Education
* Small class sizes with 18 students : 2 teachers (1 primary / 1 associate teacher)
* Extensive fun cultural exposure with integrative, interdisciplinary and hands-on language learning experiences: gardening, computers, arts & crafts, fun activities, outdoor play, culture fair (week 4), and field trip (week 8)
* Standardized oral proficiency measurement at end of 8 weeks
* Lunch & 1x per day snack included
Monday – Thursday: 9am – 3:30pm * Friday: 9am – 2:30pm Optional: fee based before and after care available.
FORMS:
What To Expect
Pick-up and Drop-off
Because safety is top priority, we will have each student checked in and out. Please make sure you list any authorized person to pick up your child on the registration form. Each designated person should be ready to show a picture ID. Inform the office or the camp staff leader if there is a change in advance. Also let the office or camp staff know if the child will be late or absent.
Parents will be notified of details of pick up and drop off procedures, who to contact each day, at least one week before camp starts.
Lunch and Snacks
Children need to bring one snack ready to eat and a full water bottle each day. Please indicate any allergies on the registration form.
Wear
It's summer and fun time too. Please have your child come to camp ready to go with:
Clothes that can get dirty or messy
Sweaters or light jackets appropriate for cool or wet mornings that can be taken off as the weather permits.
Please have your child wearing sunblock and send a bottle with your child's name on it to school if it needs to be re-applied.
Comfortable shoes-we recommend sneakers or any supportive shoe with a backstrap. Please no flip-flops as they can cause injury.
Child may be asked to bring a towel or clothes that can get wet. Notice will be given.
Please Leave at Home
Toys, candy, electronics, gum.
Positive Behavior and Safety
We expect all campers and parents/guardians and staff to be Kind, Safe and Responsible. Staff and volunteers will encourage positive behavior by modeling and practicing the expected behavior. If behavior or safety issues need to be addressed, your child will be talked to and the parents will be notified. Hope Chinese Charter School reserves the right to have the child leave the camp for repeated or extreme misbehavior.
Staff
All staff and volunteers will pass a fingerprint and criminal and background check. There will be camp staff who speak native-level fluency of the language taught. Teacher aides and/or volunteers will be assisting the main teacher.