A great BIG "thank-you" to all of our volunteers. We couldn't do it without each and every one of you. Click Here to view the January Volunteer Report:  If you have volunteer hours to log, you may access HelpCounter by clicking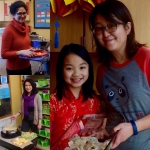 on:  Log in.
Some special projects done by volunteers were the hanging of Chinese New Year decorations, helping our students make dumplings during the classroom parties, hosting students and teachers during our Suzhou sister school visit, procuring items for our 2017 Xi Wang Gala and offering a calligraphy lesson to our 4th grade students. As always, huge thanks to our valuable and dedicated lunch helpers, morning drop-off greeters, afternoon pick-up assistants, and class parent rep volunteers.
We have many important volunteer opportunities, so join the fun and make a difference.  Contact Robyn Stolin at [email protected]  for more information.