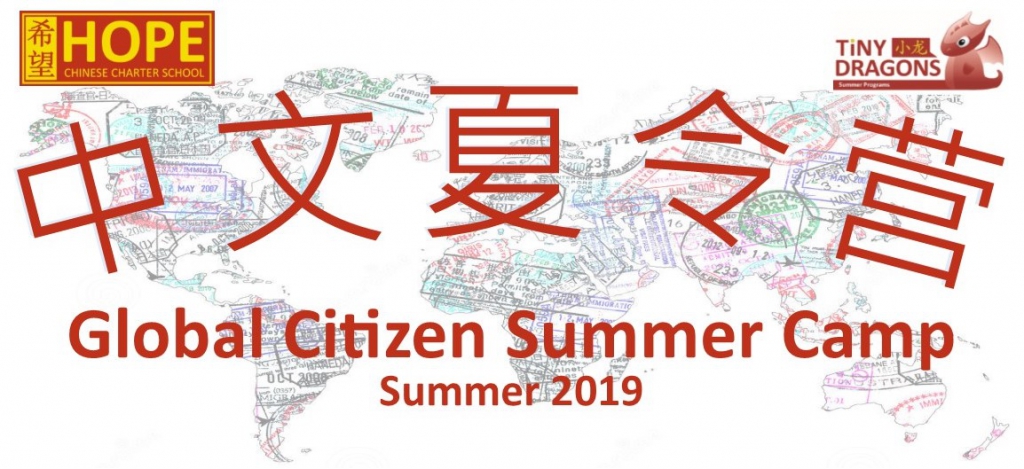 Be globally minded!
We are curious, adventurous in our exploration, having fun in our learning.
Global Citizens Summer Camp, a weekly Chinese language immersion program, aims to cultivate students' Chinese language skills and nurture their cultural adaptability. We create the perfect balance of fun and effective Chinese learning! This summer, we will embark on a grand expedition that spotlights the diverse cultures around the world and explores topics in garment & fashion, drama & theatre, gourmet food, animals & nature, rainforest & environment, music & dance.
Weekly camp from June 24th – August 2nd
(no camp on July 4th)

Daily camp schedule from 9:00am-3:30pm

Before Care: 7:45am-8:45am (FREE)

After Care: 3:30pm-5:30pm (additional fee)
Students PreK-8th grade in the fall of 2019
*preschool students MUST be at least 3 years old & potty trained
You will get…
Flexible weekly themed camps from June 24th – August 2nd

Campers are grouped based on age and language proficiency – perfect for Chinese-learning students to keep up with their language skills and for new learners to get a jumpstart on the language:

Interactive language learning through STEAM inspired, learner-centered activities and projects

Multimedia & technology use for effective learning and confidence building

Engaging themed-enrichment and outdoor games for diversity appreciation, teamwork, and fun

Professional guest instructors for art, drama, music & dance enrichment

Highly-qualified staff – licensed teachers and dedicated staff who are well experienced and passionate in language immersion teaching and student growth. Our teachers are trained by STARTALK-Endorsed Principles for Effective Teaching and Learning. All staff are trained in CPR and First Aid.

Complimentary Before Care

Fun-filled field days and curriculum-related field trips
Week 1, June 24th-28th: Everything Gourmet in America!

Week 2, July 1st-5th: High Fashion to Wearable Art: Garment & Fashion in Asia (no camp on July 4th)

Week 3, July 8th-12th: From Cuddly and Cute to Absolutely Terrifying: Animals in Australia

Week 4, July 15th-19th: Here Comes 21st Century Shakespeare: Drama & Theatre in Europe

Week 5, July 22nd-26th: Listen to the Beat: Music & Dance in Africa

Week 6, July 29th-August 2nd: The Amazing Amazon: Rainforest & Environment in South America

*weekly themes and activities are subject to change without notice
Camp Cost: $250 per week (week 2: $200). Get a 10% discount if signing up for 3 or more weeks

Before & After Care
– Before Care 7:45am–8:45am: Free!
– After Care 3:30pm–5:30pm: $65/week
– Drop in After Care: $20/day

A one time $10 registration fee is non-refundable and due upon registration. This fee is not applied towards the camp cost/aftercare, and does not receive 10% early payment discount.

Full payment is due at the time of registration. Pay before April 15th, 2019 and get a 10% discount towards TOTAL camp cost (discount does not apply to after care.)
Program Changes & Cancellations
You will receive a confirmation email when your registration is successfully submitted. Parent info sheet will be sent via email before summer camp begins.

We reserve the right to change advertised details or cancel a camp when necessary. This may include, but not limited to, cancelling a camp due to minimum enrollment not being met, combining classes due to small class size, and rescheduling of classes due to circumstances beyond our control. We will make every effort to contact you about the cancellation and will take steps to make up the class or compensate participants for lost time.

We do our best to accommodate your needs. Transferring between weeks is permitted as long as space is available and must be done in writing/by email to [email protected] no less than one week before your child's registered session starts. There is a $50 fee for any transfer of camp session made less than one week prior to the start date of the camp session.

Cancellations are permitted no less than 14 days before the camp session begins and must be done in writing/email to [email protected], and $100 of the camp fee (per child, per session) is non-refundable. No refund will be given if you cancel 0-13 days to the start of the session.