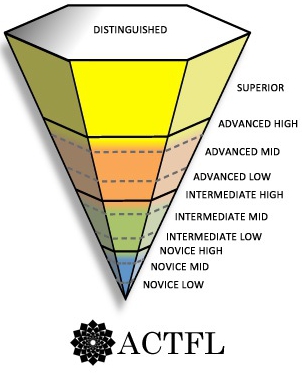 The curriculum learning conveys 6 big ideas through an academic year that become a set of spiral themes across the grades. They are: "Self-Identities", "Communities and Roles", "World Adventures", "Cultural Celebrations", "Numbers and Facts", and "Literature Appreciation". What makes our program different from others is that we create exposure of Chinese literature learning (ancient, classic and contemporary) to the students through authentic and meaningful practice.
With the curriculum study, each grade implements its "routine practice" in the classrooms. The definition of routine practice is an activity focusing on a type of language function (i.e. storytelling, debating, conversation, and describing) and a set of topical vocabulary that have been learned in the past that students will be practicing on a regular and frequent basis, so that they become proficient in one certain skill with the accumulated practice. Students must have learned such language functions and forms with our performance-based curriculum and keep the practice for the proficiency growth
Our English Language Arts program has adapted the Lucy Calkins Units of Study Reading and Writing Programs. These curriculums are workshop model based curriculums. 
Moreover, our reading program also utilizes the Daily 5 Management System that structures time for direct instruction of reading strategies, small groups, and independent practice with close monitoring by teachers. Students practice reading at an independent, "Just Right," level each day and included in the students reading choices are integrated social studies and science content books.
Our Writing Program includes Units of Study in Opinion Information, and Narrative Writing by Lucy Calkins. Handwriting is included in the Kindergarten and 1st grade curriculum. Starting in second grade, students begin working on typing practice to build writing and computer literacy skills.
In kindergarten to second grade we focus on building spelling skills through the use of Words their Way, while in third through eighth grade the focus shifts to building vocabulary and spelling. 
HCCS uses Singapore Math Common Core edition which balances a conceptual and procedural understanding. The curriculum is designed to drill "deep" into core math skills and focuses on problem solving that is designed to build perseverance.
Philosophy of Mathematics Education
What do we believe about math learning?

Math is a useful discipline that helps us think critically to solve problems in a mathematical way

Math is applicable to any job and useful in everyday life

Every student is capable of learning math if properly taught.

How do students learn math?

Actively: Number concepts need to be experienced through the use of manipulatives.

Cooperatively: Collaboration in math reasoning and problem solving offers the opportunity to develop multiple ways to solve a problem.

Independently: Sufficient independent practice is needed for mathematical learning and mastery of facts.
What do students need to master in order to be proficient with math and be college and career ready?

Number Sense: There needs to be a basic conceptual understanding of numbers and operations with numbers.

Mathematical Language: There must be common vocabulary

Computational Proficiency: There must be fluency of recall of math facts

Mathematical Reasoning: There also needs to be an understanding of procedures used to manipulate and interpret numbers.

Critical Thinking: There must be logical reasoning combined with practical application and problem solving.

Appropriate use of technology: There needs to be an opportunity to utilize the tools of our age.

Teamwork: There needs to be opportunity to problem solve collectively.
How should we teach math?

Expertise: The teacher needs a solid background knowledge of math and how the concepts build on each other.

Metacognition: Guide and facilitate learning so students can examine and extend their own thinking.

Common Core: Align the curriculum with standards and assessments to teach the students where they are in their knowledge and understanding.
Middle School Math Program
Our science program uses the Full Option Science System (FOSS) curriculum. The science curriculum includes units in Physical, Earth and Life Science. Twice a week, students will participate in hands on experiments done in Chinese while the vocabulary and content will be reinforced in English.
HCCS is a multicultural school that embraces diversity. We are committed to creating a culture of inclusion, kindness and respect. We use Positive Behavioral Interventions & Supports (PBIS) techniques to integrate a daily practice of empathy and personal responsibility into campus life. The Wisdom Seekers program also provides a deeper study of a set of global citizen capabilities that challenge students to think critically and work collaboratively. We aim to equip learners not only with language skills, but also valuable life skills that can be applied to successful leadership and teamwork in whatever situations their futures bring.
The Art Literacy program is run through the Beaverton District. Parents volunteer to help present information about the artists. Then the students get to complete a project using methods from the artists they studied. Students will receive an artist biography to bring home.
This year students will have a chance to do watercolor painting as well as using acrylic or tempera paint. We will explore the use of colors through the different projects they put together.