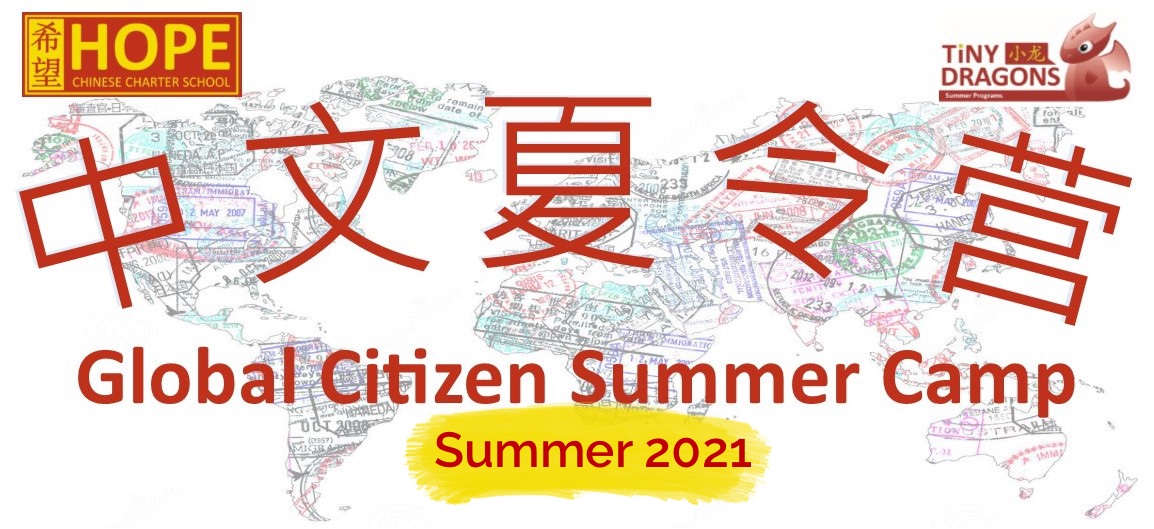 2021 Global Citizens Summer Camp
At last! Let's hop out of the virtual world to the real world; put virtual learning to real learning in a warm, relaxed, yet high impact and effective language immersion summer camp. 
GC Summer Camp this year aims to 
help solidify and enhance Chinese Language Arts (CLA) lessons taught during CDL

bring the online curriculum to life

focus on do-it, speak-it, use-it elements of the curriculum that were lacking and greatly missed in the virtual classroom

deliver CLA in hands-on projects, dramatic theatrical play, robust debate platform, investigative assignments, interactive presentations, and many more not-so-basic ways

Outdoors, outdoors, and more outdoors! Camp days filled with sports & movement, activities and games, sprinting and jumping, throwing and catching – let's get moving again

Classes led by mostly HCCS teachers who combine their mastery of the curriculum and  dedication to teaching that enable

them to

meet students where they are
Sample Activity Blocks
A typical day at GC is broken down into 4-5 core periods rotating with the following sample activity blocks:  
Morning WarmUp

Surprisingly Fun CLA 

Language! Live Projects 

Mid Day Rejuvenation

Let's Get Moving

Choice Of The Day 

Closing Reflection & Mindfulness
COST, SCHEDULE, AND GROUPS
Dates: 07/06/21 – 07/30/21

Camp hours: 8:30 a.m. – 3:15 p.m. M-F

Pickup: 3:15 – 3:30 p.m.

Enrollment: select one 2-week session (repeat session)

EXTENDED CARE
Early Drop Off 8:00 – 8:30 a.m.: FREE

After Care 3:30 – 5:30 p.m.

1st Session 07/05-07/16: $120

2nd Session 07/19-07/30: $130

Pre-registration required

No drop-in this year
DISCOUNTS & PAYMENTS
Full payment is due at the time of registration via ACH, cash, or check 

Sibling Discount: $20 off for each additional child enrolled

Pay before 4/15/17 and get a 10% discount towards camp cost 

Discounts do not apply to After Care and cannot be combined with other discounts
SUMMER CAMP SCHOLARSHIPS
Global Citizens Summer Camp is fully committed to welcoming a diverse group of students that represents an economically, racially, and culturally diverse community. Not to let financial barriers get in the way of a child's access to participate, Global Citizens Summer Camp has a limited number of scholarships, valued at up to $500 per child, available for students who qualify for the free or reduced-price lunch program. In addition, we will consider additional factors such as extenuating family circumstances.
We especially encourage families to apply if:
You receive SNAP

You receive Temporary Assistance for Needy Families (TANF)

You receive Earned Income Credit (EIC)
Scholarship applicants must submit the following within one week of registration of summer camp:
Proof of eligibility (supporting documentation to verify your household income or circumstances. This may include tax returns, a statement of benefits or documentation from your school lunch program, or a signed statement from a school official that you are income eligible for free or reduced price lunches, or a statement from a caseworker or other professional who is familiar with your family's circumstances).
Please note:
A $50 non-refundable registration fee per child is due at the time of registration in order to secure your camper's spot in camp.

Qualifying for a scholarship does not guarantee a scholarship award or guarantee a spot in the session of your choice. 

No-shows: Global Citizens Summer Camp strives to offer as many children as possible the opportunity to have an enriching Chinese immersion camp experience. As such, we take no-shows seriously. If you are unable to take advantage of our camp, kindly let us know via phone or email at least two weeks before camp starts so we may offer the slot to another eligible child. If we do not receive notice of cancellation, it is possible your child may not be considered for future scholarship opportunities.
HEALTH & SAFETY
GC Summer Camp follows HCCS Operational Blueprint For School Reentry Plan to mitigate the potential spread of COVID-19 or other viruses. As this pandemic is ever evolving, so too are the policies and procedures; we will keep families updated as this situation progresses. GC Summer Camp health and safety policies and procedures will be communicated with the families prior to the start of the session.
Here is what to expect:
Stable Groups:Group sizes are limited and campers will be assigned to stable cohorts with dedicated staff for the entire session. In After Care, campers will be assigned to one mixed group cohort that they will stay with through the session (this will be their 2nd stable cohort of the session).

Daily health screenings for campers and staff for COVID-like symptoms.

Mask Wearing and Social Distancing: Face coverings are required for all participants (including staff, adults dropping off and picking up children) age five and up. We know social distancing with young children may not go perfectly as planned, but we will do our best! The key to emphasize is that we work together to keep each other safe and have fun together.

Hand Washing and Sanitizing: Campers and staff will follow a regular schedule of hand washing. Sharing supplies and equipment will be limited as much as possible. If sharing of equipment is required, it will be sanitized between uses.

Liability waivers must be on file for each camper. The COVID-19 acknowledge/waiver is read and signed during the online registration process.
KEEP IN MIND
You will receive a confirmation email when your registration is successfully submitted. Parent info sheet will be sent via email before summer camp begins.
Cancellations are permitted no less than 14 days before the session begins, must be done in writing/email to [email protected], and will result in a $100 cancellation fee. NO REFUND will be given if you cancel 0-13 days to the start of the session.
We reserve the right to change advertised details or cancel a class when necessary.  This may include, but not limited to, cancelling a class due to minimum enrollment not being met, combining classes, and rescheduling of classes due to circumstances beyond our control. We will make every effort to contact you about the cancellation and will take steps to make up the class or compensate participants for lost time.
A full refund will be given if cancellation is due to COVID-19, either initiated by Global Citizens Summer Camp or the family. Refund will be prorated if a session has begun when a cancellation occurs due to COVID-19.