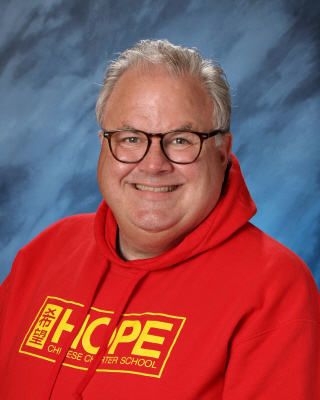 I am extremely proud to be a part of the HOPE Chinese Charter School Team!  On a daily basis I am able to observe magic happening in our classrooms that has proven over time to set us apart from other schools.  Our staff, parents, and families work collaboratively to ensure our students learn at the highest levels, and they have fun doing it!!
If you are reading this, you are either already a parent of a student in our school or you are exploring whether HOPE is a good match for your child and family.  Whichever you are, I encourage you to review the state assessment data on our site which will demonstrate the amazing success our students demonstrate.  This is just one aspect of why our families "CHOOSE HOPE" for their children.
HCCS is known across the country for the quality education it provides and the effectiveness of our Chinese Immersion program.  Our students compete annually in Chinese Language competitions with students from around the world and we dominate.  We maintain very high proficiency level standards for our students, and they meet the challenge. The Chinese Consul For Education, based in San Francisco, has recognized our school as a top school for students to learn Chinese.  
The curriculum we have chosen for our English program has shown to meet rigorous standards and as a result our students perform very well!  Last year our students were in the 99th percentile in mathematics for Oregon and surrounding states.  Our students performed in the top 5% for reading achievement.  So whether it is Chinese or English, our students do well!
Beyond academics, there are numerous reasons to "CHOOSE HOPE."  One of the main things I hear from parents and students is that it is a small family atmosphere.  This atmosphere allows us to provide a nurturing, student-centered environment for our students.  Additionally, our size and environment allow us to maintain the highest level of safety and security for all of our students.  
Additionally, HOPE is always looking at ways to provide additional enrichment to students after school.  We have a variety of clubs and activities including chess, math club, Oregon Battle of the Books, homework help, and a number of enrichment classes from private contractors.  We provide before and after school care that provides parents with flexible scheduling.   
"CHOOSING HOPE" puts you on a winning team with a bright future.  Our strategic plan goals are motivating us to move forward and determine what we want to look like five years from now.  As a K-8 school, we look forward to growing and expanding our program for all of our students.  However, this requires lots of planning and work on staff and parents.  
One of HOPE's greatest strengths is the involvement of parents and families in our programs.  HOPE parents provide funding to help close the financial gap between what we receive from the state and what we need to operate.  Additionally, HOPE parents have many meaningful opportunities to volunteer within and outside of the school.  Parents are asked to volunteer 30 hours a year.  This volunteering can be in classrooms, cafeterias, on the playground, and even completing projects at home.  There is something for everyone to be involved in.  We know students do better in school when parents are involved!
In closing, I want to reiterate that HOPE is a great place for kids!  Between the academics, the safe environment, the family atmosphere, the parent involvement/collaboration, the quality teachers, and amazing customer service it makes it easy for families to "CHOOSE HOPE" for their children.  
With High Expectations, 
Kevin Olds, Principal HCCS